---
---
***FREE SHIPPING & DUTIES INCLUDED***
Since we can't access our USA warehouse and shipping from Canada, we want to make sure your purchase is worry-free! That's why we've modified our pricing structure to include the duties. You won't spend a dime more than the shown price!!!
---
Designed with CAD and FEA, all structural parts are CNC precision laser cut stainless steel. The pedals are strong, stiff, compact and durable. Mathematical models were made to calculate pedal travel and operating force, predicting with great accuracy how each pedal feels in all of its many different configurations. Design tolerances have been optimized in order to have a minimal amount of unnecessary play.
All stainless steel metal profiles are bead blasted with glass beads before assembly. This results in a high quality semi-gloss metallic look with a minimum of sharp edges.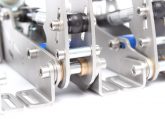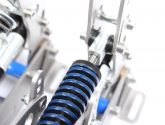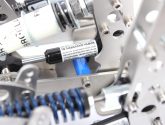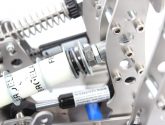 Load cells measure throttle and clutch position and brake pressure. Unlike designs with rotary potentiometers, load cells provide true linear output in relation to your pedal input. Their accuracy and durability are unmatched as they do not wear over time.
Custom developed 12bit USB electronics make sure each pedal responds instantly and accurately in your favorite simulator software. Travel is adjustable from 10° to 20° on the throttle and from 14° to 24° on the clutch. All end stops are 'soft' for a quality and neighbor friendly sound and feel.
---